Okay so I'm finally almost done with my team (by almost I mean only two of them are ready atm, the others are underlevelled), I only need to level them up enough to have the proper attacks (and so they're over level 50 at least) and I figured that I'd put it here to see if it's actually worth anything.
Do note that I did this team with pokemon I like so I'll probably end up using other stuff when I get the patience to grind breeding again! Also the order I put them in won't be the order I'll use them in battles, in case it's not too obvious x3
Also don't hate on me for using Smogon for EVs and such because I'm too dumb to numbers QQ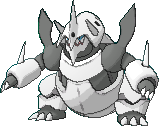 Aggron @ Aggronite
Nature: Adamant
Ability: Sturdy -> Filter
EVs: 6 HP, 252 Attack, 252 Defence
Moves:
~Iron Head
~Earthquake
~Dragon Tail
~Stealth Rock
Mostly to tank physical stuff and set up Stealth Rock, possibly Dragon Tail annoying enemies away. I chose Iron Head over Heavy Slam because I feel safer having a "constant" power instead of relying on the weight difference between Mega Aggron and his foe. Earthquake to deal with (or seriously damage) threats that are either weak or neutral to Ground type.

Espeon @ Light Clay
Nature: Timid
Ability: Magic Bounce
EVs: 254 HP, 6 Defence, 252 Speed
Moves:
~Reflect
~Light Screen
~Psychic
~Baton Pass
Setting up screens for team-mates. Psychic might put a dent on the enemy team if it gets lucky with a good match-up and Baton Pass is to avoid any possible Pursuit users after the screens are up and Espeon's ready to switch out.

Flygon @ Choice Scarf
Nature: Jolly
Ability: Levitate
EVs: 252 Attack, 6 Sp. Defence, 252 Speed
Moves:
~Dragon Claw
~Earthquake
~U-Turn
~Stone Edge
STAB Dragon Claw to deal with other Dragon types (because Outrage is Move Tutor only and X/Y only have the fancy shmancy attack (Draco Meteor, Grass Pledge, etc) Move Tutors 

 ). Earthquake because it's a powerful Ground move that also gets STAB, U-Turn to switch out and deal a little damage in case he leads / gets a bad match-up and Stone Edge to deal with Flying types.

Gliscor @ Toxic Orb
Nature: Impish
Ability: Poison Heal
EVs: 244 HP, 40 Defence, 224 Speed
Moves:
~Substitute
~Toxic
~Protect
~Earthquake
I guess this is obvious. The team's resident staller. Toxic some of the enemy pokemon, set up a Substitute then Protect or Earthquake the enemy. Possibly just Toxic then switch out to a different pokemon.

Roserade @ Life Orb
Nature: Timid
Ability: Natural Cure
EVs: 4 HP, 252 Sp. Attack, 252 Speed
Moves:
~Energy Ball
~Sludge Bomb
~Shadow Ball
~Rest
Special attacker. Energy Ball to deal with Water/Rock/Ground types, Sludge Bomb to handle Grass and Fairy types and possibly poison other types, Shadow Ball is just in case a Psychic or Ghost type pops up (though I might switch out of psychics because I dunno if it can outspeed them) and Rest to heal up. With a good switch I can get rid of the Sleep status and have Roserade at full HP again without getting the pokemon that goes in too damaged.

Sableye @ Leftovers
Nature: Bold
Ability: Prankster
EVs: 252 HP, 252 Defence, 6 Sp. Defence
Moves:
~Will-O-Wisp
~Recover
~Taunt
~Foul Play
Kind of like Gliscor, another sort of troll. Priority Will-O-Wisp will nerf the enemy's Attack and take some of their HP (if they don't use their own priority move first and eat Sableye alive) and allow Foul Play to hit hard anyway, Taunt will hopefully deny settup attempts in case they try to make up for the lost attack power and Recover is to try to be annoying for as long as possible.
I guess that's it. Probably a bad team but, like I said, it's just to mess around and I'll eventually work on other Pokemon to use. I'll try to get them all ready as soon as possible so I can try a few battles :3